Breakfast is a very important meal in our household… each person in my family treats it differently, however. My little brother could eat cereal everyday of his life. My mom eats dinner food. But it is my Dad and I who really do breakfast right. Give us a fried egg and toast and we are happy… add some pork and our day is set! This week my Dad requested that I make a whole wheat bread for our breakfast meal. So, I decided to make a Honey Wheat English Muffin Bread. I love this recipe, the texture of the bread is chewy, like an English muffin and the loaves freeze great for later. I love to serve the bread toasted with a touch of butter and honey.
Honey Wheat English Muffin Bread
2 cups Warm Milk
1/2 cup Warm Water
2 Tbsp Honey
6 cups Whole Wheat Flour
2 Tbsp Yeast
2 tsp Salt
1/4 tsp Baking Soda
Combine warm water, milk and honey. In a large bowl stir together 4 cups of the flour, yeast, soda and salt. With a wooden spoon blend mixture well, then stir in remaining flour. The dough should be sticky, so add the flour gradually.
Grease 2 bread pans, then coat with corn meal. Divide batter and put in pans. Allow to rise, covered with a kitchen towel until double. Bake a 400 degrees until golden brown. About 25 minutes.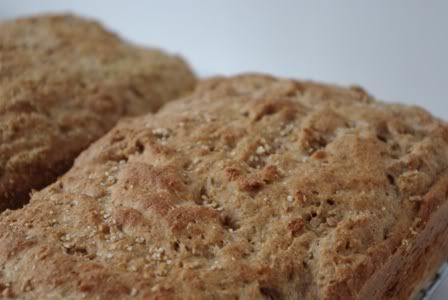 This recipe is quick and easy to make. Although it is a yeast bread, it requires no kneading, which creates the chewy texture.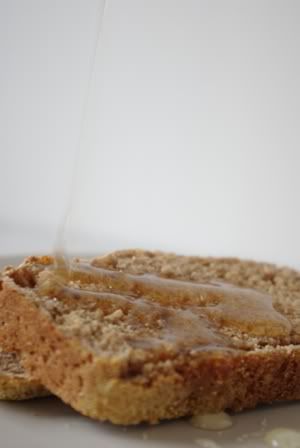 Please be sure to comment and let me know what you think of this recipe- especially if you try it out!

~ SD