When I was younger I had what you could call an obsessoin with cherry pie. Whenever we would go to my Grandma's Restaurant I would order cherry pie with vanilla ice cream. Now, I would also order nachos and chicken fingers, but cherry pie was my all time favorite. As I have grown older my tastes have evolved away from cheesy nachos… but not away from cherry pie! I rarely make cherry pie, but when I do it is an all day task with stewed fresh cherries and an ornately decorated pie. Recently I decided to simplify the recipe and make it accesible for any home cook. I hope I won't be judged for using canned cherries here, but these little cherry tarts were truly a hit with all who tried them!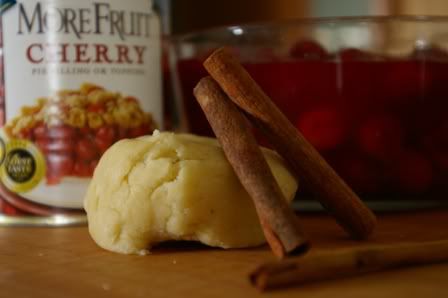 Cherry Tarts
For the crust:
4 cups All-Purpose Flour
¾ cup Shortening
¾ cup Butter, softened
1 tsp salt
1 Tbsp Sugar
½ cup Water, ice cold
1 Egg
1 tsp Apple Cider Vinegar
Combine flour, sugar, salt, butter and shortening in a large bowl. Work together with your hands until mixture forms small balls. For detailed instructions please refer to my apple pie post. In a small liquid measuring cup combine water, egg and vinegar and mix well. Slowly incorporate liquid in to flour mixture, be careful not to over mix. The dough should be moist, but not too wet and will not be completely smooth. Knowing the proper texture can only come with practice. Refrigerate dough, wrapped in plastic wrap for about a half an hour.
For Tarts:
1 can Cherry Pie Filling
Cinnamon
Egg White
Water
1 cup Powdered Sugar
Water
Sprinkle pie filling with a fair amount of cinnamon ( about 1/2 tsp). This little twist will make you fill better about using canned filling, at least it did for me! Roll out pie crust until about 1 mm thick. Cut into 4 inch circles. Mix egg white with about 2 tablespoons of water, and brush the outer edge of the discs. Place about three cherries in the center of the dough discs, too much will result in leakage! Close dough circles into a half moon shape, securing the edge by pressing with a fork- but not piercing. Brush outside with egg wash. Place on greased tray and bake until golden brown at 350 degrees (12-15 min). While tarts are baking whisk together powdered sugar and water. Add the water very slowly, because a little goes a long way. About 1 Tbsp. Brush over tarts immediately after pulling them from the oven. This will melt the glaze a bit and make the finish look smoother.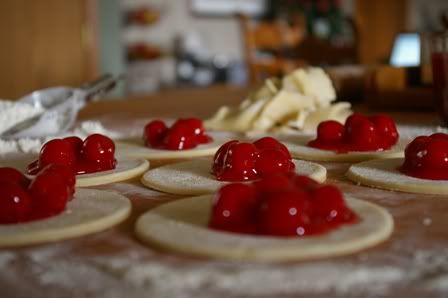 There is no finished picture of these tarts because they disappeared too fast! They are now a family favorite! You can try these with any sort of filling that your family likes… just be creative!
~SD