No… That isn't a typo. It is against my families' nature to put the "g" in dumpling. There is something wonderfully comforting about this soup, and it is not just because of the improper grammar. Whether you are tired of Winter's cold… or you have a winter cold, this soup is the perfect remedy. It takes some time, but it is well worth it when you taste the end result. My mom always boils a couple of extra chickens when she makes this soup. That way you have the broth and picked chicken frozen and ready when you need it.
Chicken and Dumplins
Makes 6-8 large servings
2 whole Chickens
Water
2 cups Potatoes, peeled and diced
2 cups Carrots, peeled and diced
1 cup Peas
1 cup Corn
1 cup Cut Green Beans
Salt and Pepper to taste

For Dumplings:
2 cups Self Rising Flour
½ cup Shortening
1 Tbsp Sugar
¾ – 1 cup Buttermilk
Place chickens in a large stock pot and cover with water, about an inch higher than the chicken. Simmer for 2-3 hours uncovered. Remove chicken from the broth and set aside to cool. Strain broth using a wire strainer and another large pot to catch the strained broth. Pick chicken from the bones and set aside to be added to the soup later.
Add the potatoes and carrots to the strained broth in a large stock pot. Boil until veggies are nearly tender, then add remaining vegetables (I use frozen peas, beans and corn).
While potatoes are cooking mix your dumpling dough. In a medium sized mixing bowl combine self rising flour, sugar and shortening. Mix with your hands until shortening is well incorporated. Add buttermilk a ½ cup at a time, and blend with a wooden spoon. Add enough buttermilk to moisten all of the flour. Do not over mix the dough. Turn dough out onto a lightly floured surface. Knead 3-4 times, then press into a circle about the size of your soup pot. Cut dough into even squares with a large knife.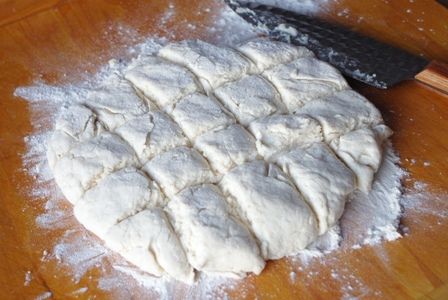 Once you have added all of the vegetables to the broth, season the soup to your tastes. Add picked chicken. Bring soup back to a boil. Carefully place each dough square onto the top of the soup, in the same pattern that you cut them in. Be careful not to drop them in and splash yourself.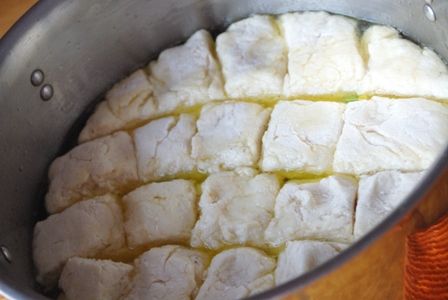 Place lid on stock pot and boil soup on medium heat for 10 minutes. Do not remove the lid. It is important to keep the steam in the pot to thoroughly cook your dumplings. After ten minutes remove the lid and simmer for 5 more minutes. Allow to cool for a few minutes before serving.
Notes:
You can add shredded cheese, garlic, or herbs to your biscuits if you prefer.
This soup base is very versatile and you can add whatever vegetables your family likes. Some others can include: onions, celery, peppers, squash and lima beans.
If you don't want to make dumplings simply add egg noodles at the same time you add your final vegetables, Boil for 10 minutes to cook noodles.