When it comes to produce, these days, it is so easy to find what you want, when you want it. Anyone can go to their local grocery and find summer squash in the middle of winter, brussel sprouts in the heat of summer or even strawberries whenever you like. I have fallen for these "out of season" berries. They look so bright and red. They are huge, like berries on steroids! So, why not try 'em? Each time I fall for the allure of year round berries I regret it. Once they have arrived in my far away land from someplace warm, they loose all of their flavor appeal. Cut into a strawberry in January and instead of a soft, deep red flesh, you get hard and white. Oh how what a drag! The good news is, local strawberries are in season right now! I would not have known this if our neighbors had not brought my family some this week. These berries are deceiving to the eye. Early season strawberries are much smaller, but boy do they taste sweet! Take a trip to your neighborhood truck patch or grocery store and pick up some of the summers first berries!
Quick Berry Cheesecake
1 cup Graham Cracker Crumbs
¼ cup Sugar
1 tsp Cinnamon
2 Tbsp Butter, melted
8 oz Cream Cheese, at room temperature
1 cup Heavy Whipping Cream
¼ cup Sugar
¼ tsp Lemon Juice
1 tsp Vanilla
1 ½ cups Berries
¼ cup Sugar
Preheat oven to 350 degrees. In a small mixing bowl combine cracker crumbs, sugar and cinnamon. Transfer to an ungreased sheet pan and bake for ten minutes. This will toast the crumbs and blend the flavors of the sugar and cinnamon in well. Melt 2 tbsp of butter and mix into cooled crumb mixture. Set aside.
In a large mixing bowl, beat softened cream cheese with an electric hand mixer. Scrap the sides of the bowl with a spatula every now and then to ensure all of the cheese is being whipped. Mix for about two minutes on high speed. Scrape the sides of the bowl, then pour in heavy cream and turn speed to medium. Whip for another two minutes, mixer should be smooth and fluffy. Add sugar, lemon juice and vanilla and beat for one more minute. Set aside.
Prepare berries by washing and slicing them. Place sliced berries in a small bowl and toss with sugar. If you are using something like blackberries, or blueberries simply rinse them and toss in sugar, gently.
Begin layering by placing graham cracker crumbs in the bottom of a medium sized, shallow serving dish. Next, spread cream cheese topping. Top with sugared berries and chill before serving. The berries tend to release a lot of juice when they are sliced sugar. If there is a lot of liquid in your berry bowl, discard it and just spread the berries over your cheesecake.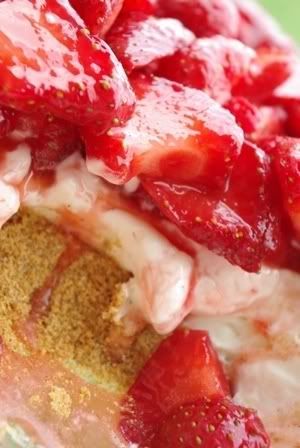 ~SD