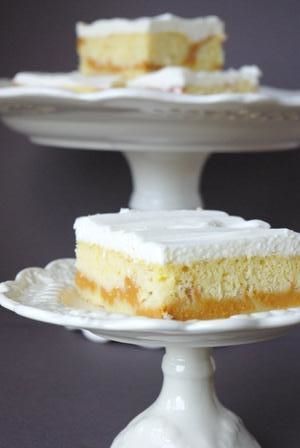 Fall is fast approaching and when the air becomes chilly I always get a taste for pumpkin. This cake is a new favorite of mine because rich pumpkin pie with a light vanilla cake. It is simple to make and can even be done using a box cake.
For Cake:
1 ½ cups Flour
1 ½ tsp Baking Powder
¼ tsp Salt
1 stick Butter, softened
1 cup Sugar
2 Eggs
½ tsp Vanilla
¾ cup Milk
Combine Flour, Powder and Salt in a medium mixing bowl. Using an electric hand mixer add one tablespoon of butter at a time, and mix until the mixture is coarse like sand. Then add sugar. Mix egg in one at a time, followed by the vanilla and milk. Do not overmix. At this stage, if you choose to use a box cake mix, follow box instructions for mixing. Pour cake into a greased 9×13 inch baking pan.
For Pumpkin Filling
1 Small Can Pumpkin Puree
½ cup Evaporated Milk
1 egg
Pumpkin Pie Spice if desired
Mix all ingredients until well blended. Pour over cake mixture. Bake Cake at 350 degrees for 20-25 minutes. Pumpkin mixture will sink and swirl itself in the cake. Bake until cake no longer jiggles in the middle. Allow cake to cool on the counter before icing.
For Icing
8 oz Cream Cheese, softened
½ cup Powdered Sugar
½ cup Heavy Whipping Cream
½ tsp Vanilla
With electric hand mixture whip cream cheese until smooth. Add sugar, cream and vanilla and whip until stiff peaks form. Ice cake and refrigerate for service.