It is not often that this gravy lovin' country girl braves the world of Asian cooking… but when I do- it is oh so good! This past weekend was my Grandma's birthday. She is a huge fan of sushi and loves Japenese food. I do not eat sushi, but love the challenge of making it. Here are some fun pictures of that good dinner… and a bonus recipe for potstickers. This recipe is a staple at every Asian themed meal I host. I created it a few years ago and I am famous for it now (at least in my small circle of friends!)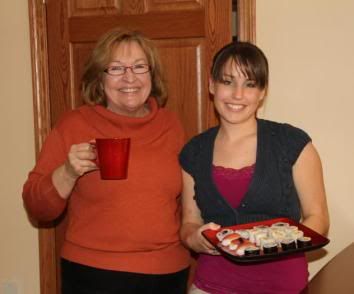 Pork Pot Stickers
Makes 30
1 lb Unseasoned Ground Pork
3 Tbsp Sweet Chili Sauce
1/8 tsp Seracha (not sure how to spell, hot sauce)
2 Tbsp Sesame Oil
2 Tbsp Green Onions
1 tsp Fresh Ginger, grated
½ cup Cornstarch (enough pull everything together)
1 cup Finely Chopped Green Cabbage
1 Tbsp Cilantro, fresh, chopped
Wonton Wrappers
Mix ingredients for filling. Lay wonton wrappers out onto the counter, then fill with 1 heaping teaspoon of filling- in the center of each square. Brush edges with egg wash, then fold in half to create a triangle. Then connect the two legs of the triangle with egg wash.
Using a steam insert for a stock pot, steam each pot sticker for 5 minutes. Once steamed, fry pot stickers in a small amount of vegetable oil until crisp on each side. The pot stickers can be stored (steamed) in the refrigerator for up to one week. Or frozen.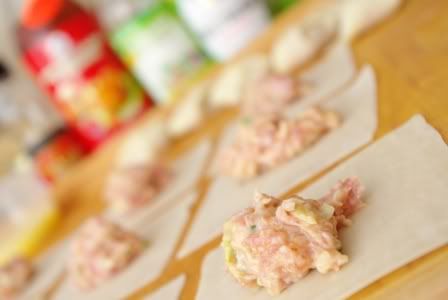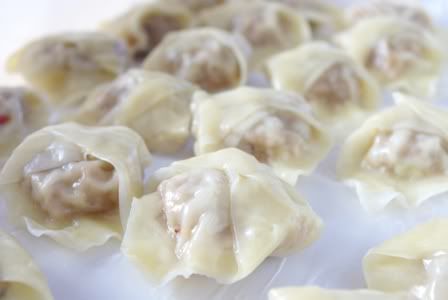 Sauce
1 tsp Honey
½ tsp Garlic
1 Tbsp Mustard
1 Tbsp Sweet Chili Sauce
¼ cup Rice Vinegar
1 Tbsp Sesame Oil
¼ tsp Ginger, grated fresh
¼ cup Soy Sauce
Cilantro, for garnish
Mix all ingredients for sauce and let chill for at least an hour before service.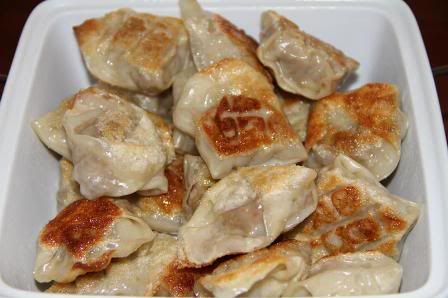 For the sushi I made… Spicy Tuna Roll, Marinated Shrimp Roll and some sushi wrapped in rice paper- for those who don't like Nori (me!)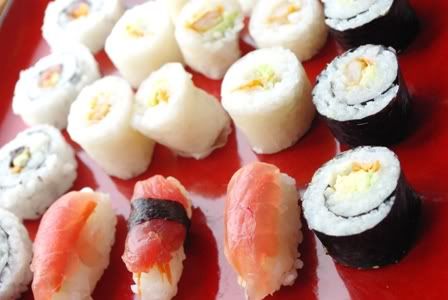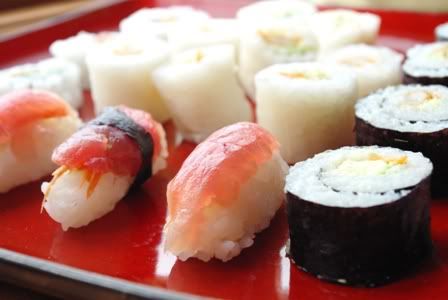 Other items on the menu included: marinated shrimp, chicken and beef skewers, which were cooked at the table. Soy Pork Noodles with stir fried vegetables. Sticky Rice. Wasabi Slaw- which was the favorite item of the day. And fortune cookies which my mom made with little sayings on the inside. She is much better than I am at making things that involve patience!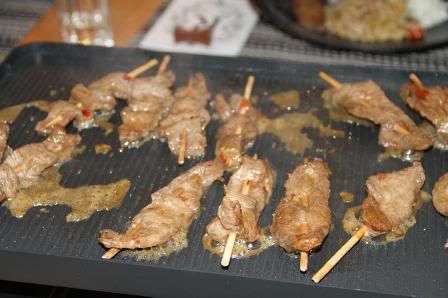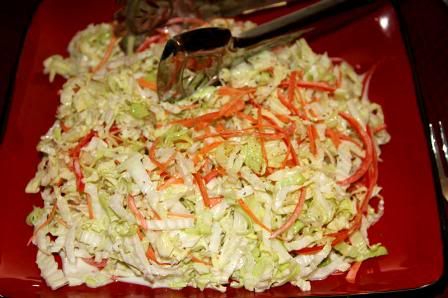 My Asian themed table.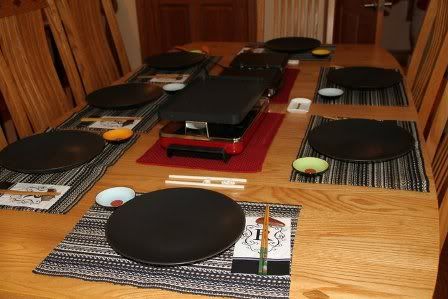 And here I am snapping a quick shot of the sushi before it was gobbled up!