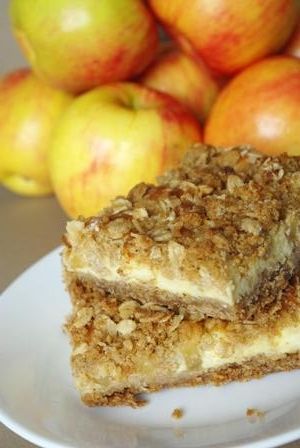 Caramel Apple Cheesecake Bars
This recipe combines two of my favorite desserts, cheesecake and apple crisp. They can be served warm, chilled, with caramel sauce, with ice cream… so many options!
For the Crust:
½ cup Graham Cracker Crumbs
½ cup Flour
1/2 cup Brown Sugar
¾ cup Butter, softened
For the Filling:
16 oz Cream Cheese
2 Eggs
½ cup White Sugar
1 tsp Vanilla Extract
For the Apples:
2 Apples
1 Tbsp Butter
½ tsp Cinnamon
2 Tbsp White Sugar
For the Topping:
½ cupped Rolled Oats
½ cup Brown Sugar
½ cup Butter, softened
½ cup Flour
½ cup Graham Crackers Crumbs
Grease a 9×13 inch baking pan. Preheat oven to 350 degrees.
Using an electric hand mixture, blend all crust ingredients until well mixed. Press mixture into greased pan.
For the cheesecake filling, beat cream cheese until smooth, then add remaining ingredients. Pour filling over crust.
Peel and dice apples. Cook in small sauté pan over low heat, with butter. Sauté until tender, then add sugar and cinnamon. Sprinkle apples evenly over cheesecake layer.
For the crumb topping combine all ingredients and beat with electric mixture until crumbly. Sprinkle over apples.
Bake at 350 degrees for 30-40 minutes, or until cheesecake filling is set, and no longer jiggles when moved. Allow to cool, slice and chill.