After a long break from recipe blogging, I am excited to be back and to introduce a new member of my family. This new addition has been long awaited and I am happy to call it my own…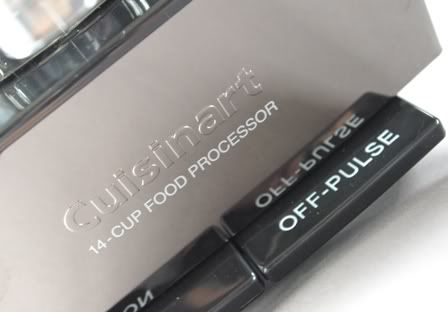 My brand new cuisinart food processor was a gift for my birthday. I am trying to think of recipes that require a food processor, just so I can play with my new toy. I decided, for my first round using my food processor, I would make an apple crisp. Rather than doing a plain old pie I decided to make them bite sized. These little pies would be great as an addition to your fall party.
Bite Sized Apple Pies
Topping:
1 cup Oatmeal
1/2 cup All Purpose Flour
1/2 cup Brown Sugar
1/2 tsp Cinnamon
1/2 stick butter, chilled
Filling:
6-8 Medium Honey Crisp Apples (or another firm, tart, cooking apple)
1/2 stick Butter
1/2 cup Brown Sugar
1/2 tsp Cinnamon
1 Tbsp Cornstarch
1 Tbsp Cold Water
1 recipe Pie Crust
Place all topping ingredients in the bowl of the food processor. You can easily do this by hand, I just really wanted to use my new food processor! Blitz a few times until ingredients are well combined.
Peel and dice apples. Saute in a medium pan over medium heat, with butter. Cook until nearly soft. Add brown sugar and cinnamon. Combine cornstarch and water and pour into simmering apple mixture. Cook, while stirring until well thickened. Turn off heat and allow to cook slightly.
Roll out chilled pie crust and cut into circles. Be sure to cut one then double check that the circle size works for the size of your muffin pan. Place circles in greased muffin tin, be sure not to pierce holes in the bottom. You can use mini muffin tins for bite sized treats or regular for something more substantial. Spoon filling into dough cups, all the way to the top. Place one spoon full of topping over that. Press the topping gently so the crumbs don't fall off of your pies. Bakes pies at 400 degrees for 12-15 minutes. Allow to cool for about 5 minutes then serve warm.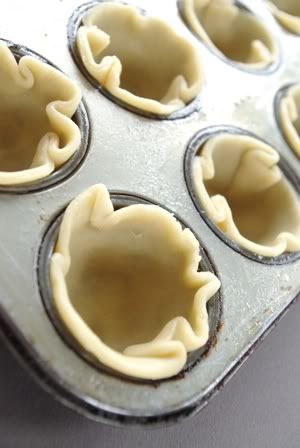 If you are in a rush and don't want to make all of these components from scratch you can:
Use pre-rolled purchased pie crust
Use canned apple filling
Give the recipe to someone who likes to cook and invite yourself over for dinner
~SD