Warm up your Christmas morning with a fresh batch of homemade cinnamon rolls.
Cinnamon Rolls
Makes: 1 dozen
Dough:
1 cups Water- Hot
½ cup Sugar
1 Tbsp Salt
3 Tbsp Butter
1 Egg
1 ½ cup Water
4 Tbsp Yeast
1 box White Cake Mix
All Purpose Flour
Filling:
1 stick Butter, Softened
1 cup Brown Sugar
2 Tbsp Cinnamon
Icing:
1 ½ sticks Butter
1 ½ cups Brown Sugar
3 cups Powdered Sugar
2 Tbsp Heavy Cream
For dough- Combine first cup of hot water with sugar, salt and butter in a large bowl. Allow sugar and salt to dissolve, and butter to melt.
In separate small bowl combine yeast, remaining cool water and egg. Stir mixture into large bowl. With a whisk mix in cake mix. Then whisk in one cup of flour at a time until mixture is very thick. Turn dough onto floured surface and knead until smooth- adding flour as needed when dough gets sticky. Let dough rise until double.
Roll dough out on floured surface into a one inch thick rectangle. Smear dough with butter, then sprinkle with brown sugar and cinnamon. Roll tightly. Cut into 1 ½ inch thick rolls and place in greased pan.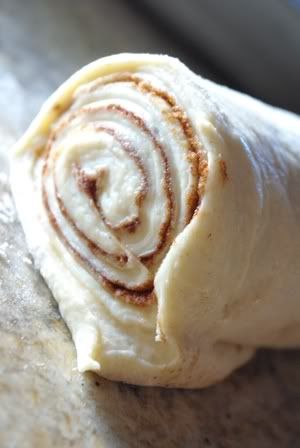 Let rise until doubled in size then bake at 350 for 20 minutes or until rolls are golden brown on top.
While the rolls are baking mix the icing. Bring butter and brown sugar to a boil. Remove from heat and use a hand mixer to whip in powdered sugar. Finish with cream. Ice rolls when they are warm.
See the finished product of this recipe on Cleveland News Channel 3! Monday, December 19th at 10 am! And remember to check out my cookbook at Barnes and Noble.com