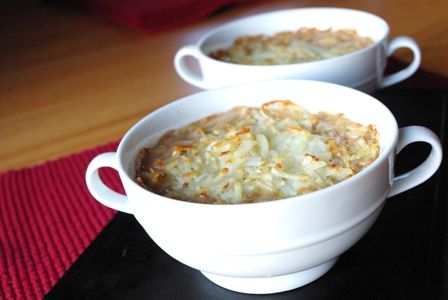 This take on shepherd's pie is quick to throw together, and can be prepped ahead and refrigerated or frozen before baking. I used frozen hash brown potatoes for a quick option- you could also boil then shred your own potatoes.
½ lb Ground Beef
1 cup Zucchini, diced
½ tsp Garlic
¼ cup Flour
1 ½ cups Beef Broth
½ cup Swiss Cheese, shredded
½ cup Milk
1 tsp Balsamic Vinegar
Salt and Pepper to Taste
Pinch of Cayenne
2 cups Frozen Shredded Potatoes
In a medium saucepan cook beef over low heat, adding zucchini and garlic half way through. Cook until zucchini is nearly tender, then stir in flour. Cook for one more minute and add broth- scrape the bottom of the pan with a wooden spoon to get any browning incorporated into the sauce. Add cheese and simmer until thickened. Stir in milk and season to taste. Place in greased oven safe bake ware- I used two oven proof bowls. Top with potatoes. Bake at 350 for 15 minutes (time my need to be longer if they have been refrigerated or frozen- look for bubbling sauce to determine doneness). Optional- turn your oven on broil to crisp the top of the potatoes.