This time of year is prime time for baking with apples.  Of course, anytime of the year you can go to your local grocery and grab a bag of Granny Smith, Golden Delicious or Macintosh apples, but there is something special about apples when they are in season.  Right now the orchards are harvesting some of my favorite eating and baking apples… and I love to take advantage of the great varieties that are available.  My personal favorite for eating and baking is Honey Crisp, which is a newer apple variety and is becoming more available each season.  I also really love a great Northern Spy.  This apple is an heirloom variety that my great-grandmother used in her fall baking.  Although not great for eating, this type is great used alone in baking, or combined with Honey Crisp.
For this recipe I chose to use Northern Spy apples, but any tart, firm baking apple will do.  These muffins are great snitched straight out of the oven, warmed with vanilla ice cream or with a great cup of coffee for breakfast.  The addition sour cream, as with many other baking applications, makes these muffins super moist, with a uniquely rich flavor.  This recipe makes two dozen muffins, which is a great way to share the bounty with friends!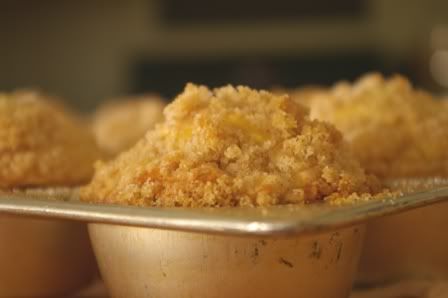 Apple Streusel Muffins
Makes: 2 Dozen
Muffins:
4 cups Flour
2 cups Sugar
2 ½ tsp Baking Powder
1 tsp Baking Soda
1 tsp Salt
½ tsp Cinnamon
4 eggs
2 cups Sour Cream
½ cup Butter, melted
1 cup Heavy Cream
3 cups Diced Apples
Topping:
½ cup Sugar
6 Tbsp Flour
½ tsp Cinnamon
4 Tbsp Butter, softened
For Muffins:  Combine all dry ingredients in large bowl.  In a separate bowl blend all wet ingredients well.  Mix wet ingredients into flour mixture, then add diced apples. 
For Topping:  With hands blend sugar, flour, cinnamon and softened butter until mixture reaches a crumb-like texture. 
Preheat oven to 400 degrees.  Grease muffin tin well and fill each section ¾ full with muffin batter.  Top generously with streusel topping.  Bake at 400 degrees for about 20 minutes.  To test:  gently press the top of a few muffins with your index finger, if the top gives and then springs back the muffins are done.
~SD