Roasted Red Pepper Sauce
2 large Red Bell Peppers
1 tsp Olive Oil
4 Roma Tomatoes
1 Onion
1 clove Garlic
1/2 Jalapeño Pepper
1 cup Chicken Stock
1/2 cup Pine Nuts
Kosher Salt to Taste
Rinse red peppers. Coat with olive oil. Place peppers directly over the open flame of a gas burner, or grill. Allow the skin to turn black, turn the peppers so they darken each side.
Remove from stove and immediately place peppers in a bowl, and cover with plastic wrap. Allow pepper to steam, and cool. Once cooled, peel peppers under running water. Remove stem and seeds.
Core and slice Roma tomatoes. Peel one clove of garlic. Remove the stem and seeds of 1/2 of a jalapeño pepper. Place prepared vegetables, along with cleaned roasted peppers in a small sauce pan along with chicken stock.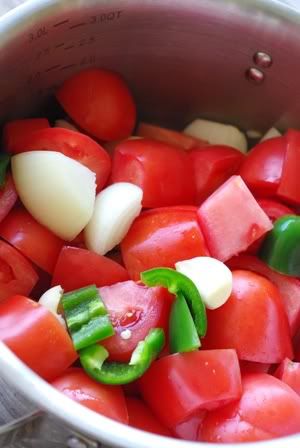 Allow mixture to boil, stirring frequently for 1/2 hour. Remove from heat and cool slightly. Puree mixture in a food processor with pine nuts. Season to taste.
~SD