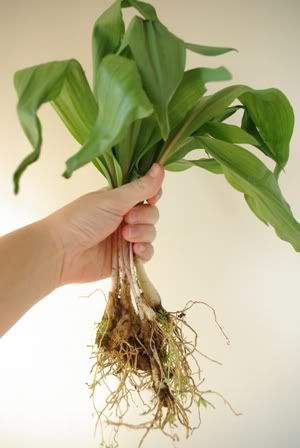 As the sun begins to warm up, and May is just around the corner, this can mean only one thing! To most it means summer, sun bathing, beach going and lawn mowing. To me, it means Ramps! A ramp, by definition is a wild onion that grows in cool spring climates. If your springtime means drizzly rain, warm days and wet ground. You are likely to be able to find ramps in the woods in your area. If your spring means increasingly hot days, tank tops and dry weather, sorry you may have to go to your gourmet grocer to find this treat! If you are unable to obtain ramps, this particular recipe can be made with green onions. Sadly.
If you are fortunate enough to live in an area where ramps grow wild (they can also be called wild leeks), they are simple to harvest. Take a walk in the woods and look for lush patches of wide green leaves. They resemble mini corn stalks. Like this: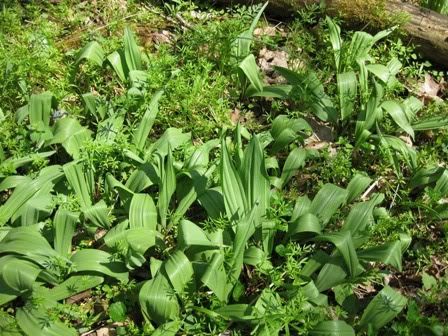 Grab a shovel and a plastic grocery bag, and harvest ramps just like you would transplant bulbs. Dig deep enough under a section of the plant to catch the root. Then, with your hands, gently pull the ramps from the dirt, shaking off the excess dirt and leaving the whole root. Transfer to a plastic bag. Be sure not to dig up all the ramps in one area, move on to another patch, so your ramps will thrive from year to year.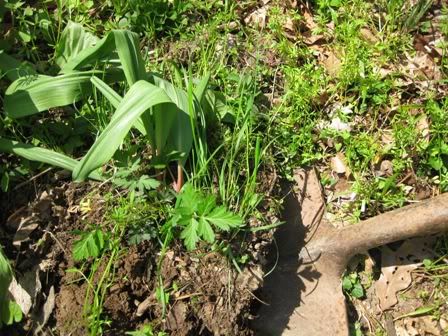 Once you have collected your ramps, take them home and have a closer look.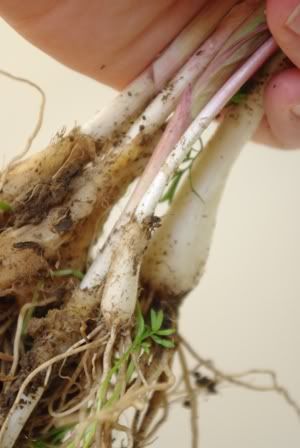 Their root end, in all of it's dirty glory will start out bright white toward the bottom, then as it goes up the stalk will be a reddish color. I have been told that they can be a very deep red, or even purple.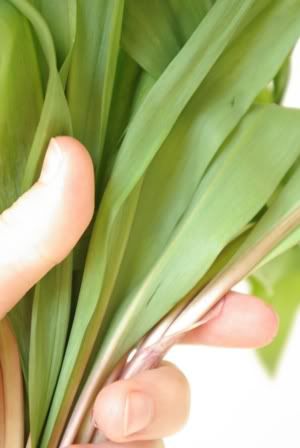 The green tops are tender and leafy and can be eaten early in the season. When the weather gets warmer and drier, steer clear of the tops, as they can be bitter.

You can store the ramps in a tightly sealed plastic bag for up to one week. I like to clean mine first, so they are ready to use. Start by thoroughly rinsing the entire stalk, and peeling away any layers that seem extra dirty, or wilted. Trim the root end off, but try not to cut too much of the whites.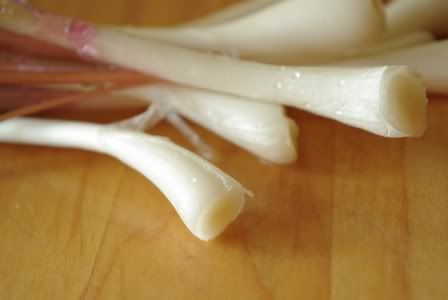 Now you are ready to make your recipe. This Ramp and Cornbread Salad recipe was loosely adapted from my good friend Katie Schlabach's recipe. I changed a bit here and there, and added ramps to make the recipe seasonal. Ramps have a reputation of being over powering, but in this preperation I tried to use ingredients that brought out their rich, garlicy/onion flavor. Start by thinly slicing the cleaned stalks from root end to top.
We will be using the whites, all the way to the leafy part for some of the recipe. Then, using the chopped greens like an herb in our dressing.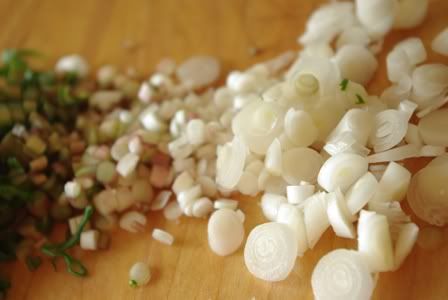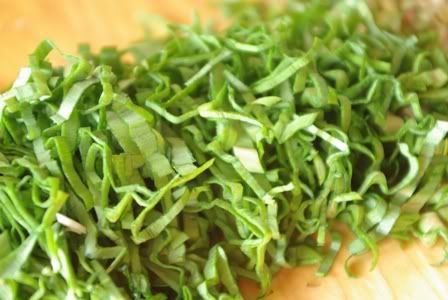 I like to get the ramps prepped and ready, then set them aside until they are needed in the recipe. Now we begin the cornbread for the base of the salad. With something like this I use a boxed cornbread mix. Actually. Thats not true. I always use a boxed cornbread mix. I like it. Please don't judge. The key is to add a touch of honey to the mix, and the flavor is outstanding. Follow the package instructions on the mix of your choice. Bake. Then, once the bread has cooled, turn it out onto a cutting board and cut into 1 inch cubes.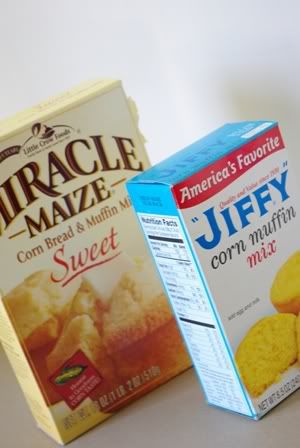 Set the cubes aside and begin the bean mixture. The best part of this layer of the salad, not including the ramps, is the slab bacon. The flavor of the bacon brings out the flavor of the ramps, and rounds out the whole dish. I am sure you have seen me use slab bacon a time or ten in my recipes. It can be found at most specialty butcher shops, or ask around at your grocery meat counter. It is worth the search, but if you cannot find any regular sliced bacon will do.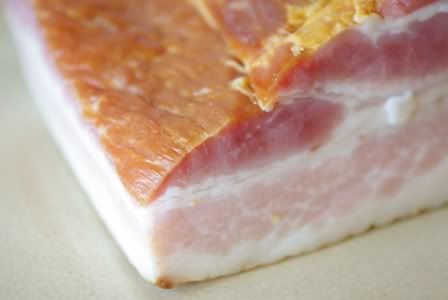 Saute the bacon dices until they are almost crisp. A trick that my dad taught me- he is the bacon frier in our household- is take the bacon off before you think it is done. It always seems to crisp up a bit after its cooked. That theory applies here. We want the bacon to be tender- not crunchy. Once the bacon is nearly done, add the frozen corn and peppers. (Check out the simple recipe at the bottom of this post for details) Saute for one more minute, then add ramp whites and beans. You want to leave some of the juice with the beans. Once cooked the juice will caramelize and bring together this layer.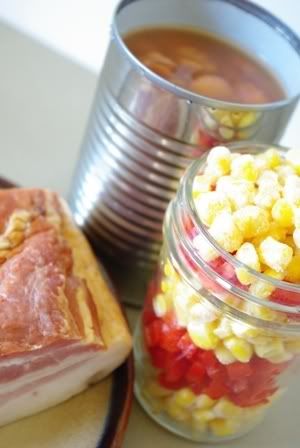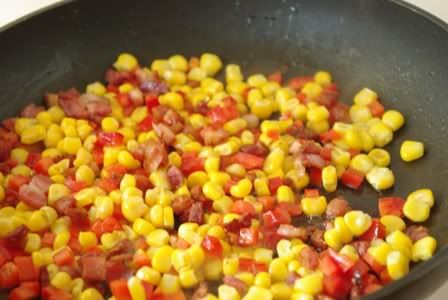 Set aside the bean mixture and begin the prep of the dressing. I made the dressing with a few of my all time favorite things. Sour Cream and Hidden Valley Ranch. The last item is a bit embarassing, but I can't get enough of the stuff. The chopped green tops of the ramps are used in this layer, much like an herb.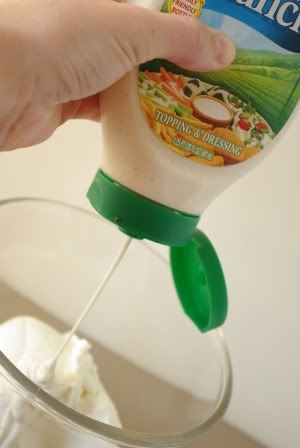 Now you are ready to layer. Choose a medium sized serving dish and start by placing half of the cornbread, then half of the beans, then half of the dressing. Then repeat.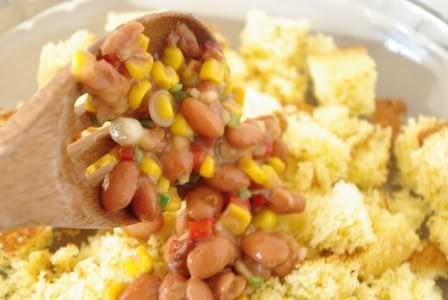 Top with some shredded smoked cheddar cheese, or any cheese really! Then sprinkle with some of the chopped greens of the ramps. Chill before serving. You can make this recipe a day ahead- it is better that way.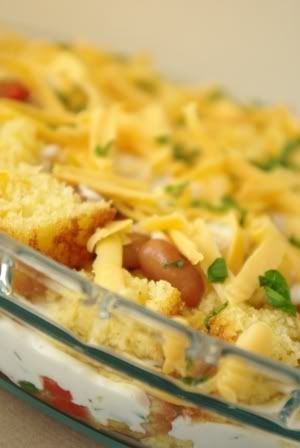 Whether you go digging for ramps, take a trip to your specialty grocer, or substitute green onions, this recipe is simple and worth trying. It makes a great addition to any potluck or summer picnic!
Ramp and Cornbread Salad
1 box Dry Cornbread Mix
2 Tbsp Honey
¾ cup Bacon, diced
½ cup Frozen Sweet Corn
½ cup Red Bell Pepper, diced
1 can Pinto Beans, some juice removed
6-8 Ramp Stalks, thin sliced
Kosher Salt to taste
1 ½ cup Sour Cream
½ cup Ranch Dressing
1 Tbsp Cider Vinegar
Pinch Kosher Salt, Black Pepper and Cayenne Pepper
1 cup Smoked Cheddar, grated
Follow package instructions for making corn bread, add honey during the mixing process. Let cool after baked, then turn out onto cutting board. Cut into 1 inch cubes. Set aside
In medium sauté pan over medium heat fry bacon until slightly crisp. Stir in corn and peppers and sauté for one minute. Turn heat to low and add ramp whites and beans, with some of the juice. Allow to cook for one minute, then set aside to cool slightly.
Combine sour cream, ranch dressing and cider vinegar. Mix well with whisk, then season to taste. Add the chopped green tops of the ramps.
In a medium sized serving dish or pie plate layer half of the cornbread, half of the bean mixture then spread half of the dressing over top. Repeat. Then top with shredded cheese.
This recipe is best served chilled, and can be made a day ahead. The flavors of the ramps will be enhanced as the salad rests.
~SD