In honor of this rainy and dreary day I thought I would make a hearty potato soup. Though I normally consider soup a winter food, I look forward to rainy summer days to enjoy a bowl… or two!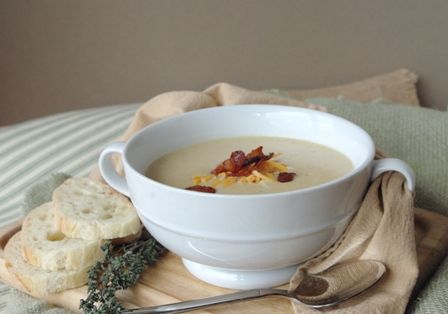 Potato Bacon Soup
½ cup Bacon, diced
1 Tbsp Butter
¾ cup Flour
4 cups Chicken Broth
2 cups Potatoes, Peeled and Diced
1 cup Cheddar Cheese, Shredded
½ cup Milk
2 Tbsp Heavy Cream
Salt and Pepper to taste
Cook bacon in medium saucepan over low heat until crisp. Remove bacon- leaving grease in pan. Add butter to grease and melt. Over low heat, stir in flour and cook for one minute. Then add chicken broth- and scrap the pan drippings from the bottom of the pan to incorporate into the soup. Add diced potatoes and simmer until tender. Stir in cheese, milk and cream. Season to taste.