This time of year I am conflicted by one big question…. Stuffing or Dressing? My southern family calls a blend of bread, eggs, cream and seasonings –stuffing. The yankees up here in Ohio (and the Amish) call it dressing. When faced with this question I have a few choices- conform to northern standards, stick to my southern roots– Or, change the name all together to a fancier sounding appealing title. I decided to change the name and I am slowing training the people in my close family to call it the same. Maybe it will catch on….
Savory Bread Pudding with Mushrooms and Pearl Onions
Serves: 4- 6
3 cups Bread Cubes (I like to use French bread)
½ cup Bacon, cubed
1 cup Pearl Onions, frozen
1 ½ cup Water
1 Tbsp Butter
1 cup Mushrooms, thick sliced
4 eggs
2 ½ cups Half & Half
½ tsp Kosher Salt
½ tsp Pepper
1 cup Swiss Cheese
Cut bread into 1 inch cubes. It is good to use a hearty, but not crusty bread. Sourdough is great for an added flavor. Place bread cubes into a casserole dish. Bake at 300 degrees for 20 minutes- stirring at ten minutes. Remove from oven and allow to cool.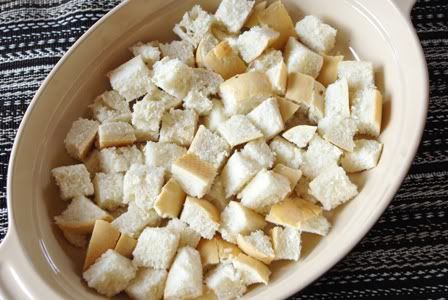 In a medium sauté pan, over low heat cook bacon until browned- but not crispy. Remove bacon from pan, reserving the grease in the pan.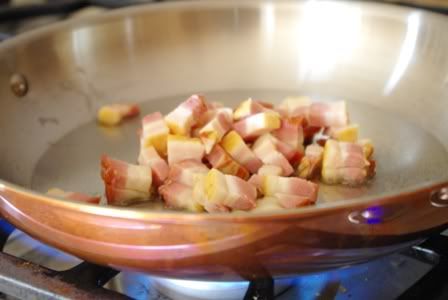 Take a look at that bacon sizzling in my new copper saute pan! Thanks to my husband and his creative birthday buying I now know the advantages of copper cookware!
Add pearl onions directly to the pan. Sauté over medium heat. Add a dash of water to the pan to accelerate the caramelizing process, each time the water cooks down- add more. Continue this process until the onions have a nice caramel coating.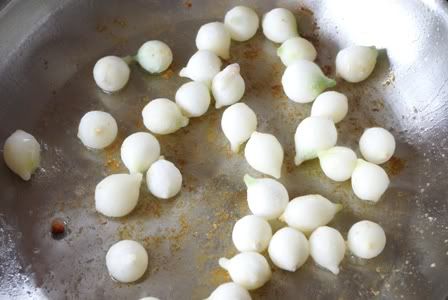 Add butter to the pan then stir in mushrooms and cooked bacon. Allow to cook until mushrooms are nearly tender.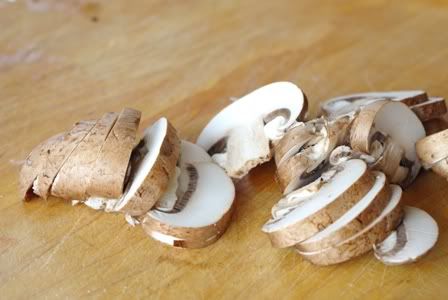 Cool this mixture slightly, then mix in with bread cubes. Add ½ cup of Swiss cheese to the casserole mix.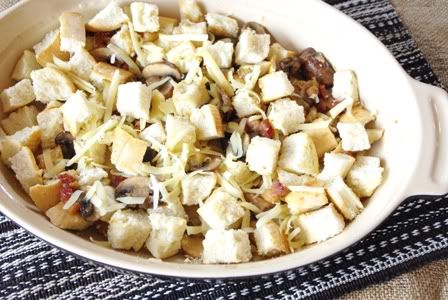 Combine eggs and ½ & ½ with seasonings and whisk until well blended. Pour mixture over casserole and top with remaining Swiss cheese. Refrigerate for at least 4 hours- or overnight.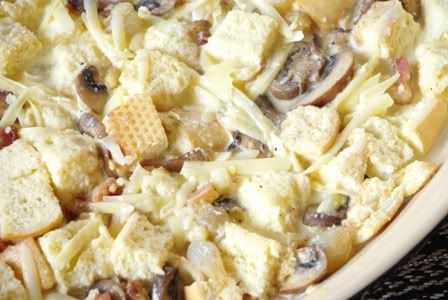 Bring chilled casserole to room temperature before baking for best results. Bake at 325 degrees for 30-40 minutes. The cheese should be browned and the center of the casserole should be set.