These crackers are a simple solution for your crunch craving. Made with spelt flour and multi grains they can accompany any healthy meal or light snack. They can also make a great addition to your next potluck along side a tray of cheeses or some dip.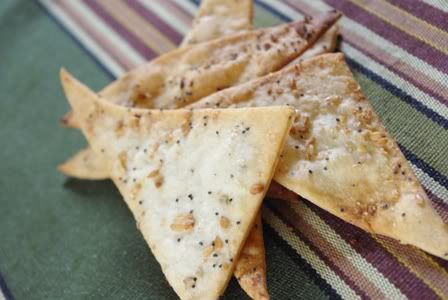 Multi Grain Crackers
Makes about 2 dozen crackers
2 cups Flour, I prefer white spelt
1 tsp Baking Powder
½ cup Warm Water
2 ½ Tbsp Extra Virgin Olive Oil
½ tsp Salt
¼ tsp Black Pepper
Grains and Seeds of your choice for sprinkling
1 Tbsp Additional Oil For Sprinkling
Combine flour, baking powder, water, oil, salt, pepper. Knead until all ingredients are well combined. Wrap with plastic wrap and refrigerate for one hour.
Remove dough from refrigerator and roll out onto a floured surface. Roll as thin as you prefer. Cut into your preferred shape then brush with olive oil. Then sprinkle with the grains and seeds of your choice. I like poppy seeds, flax seeds, rolled oats or spelt, sunflower seeds or sesame seeds. Place onto greased sheet pan and bake at 425 degrees until golden brown. Depending on the thickness bake 6-8 minutes.