The mild flavor of shrimp lends itself well to marinades. This recipe is light and fresh tasting and is great on the grill. If you don't have a grill (or it's the middle of winter!) simply cook the shrimp in a sauté pan for 1 minute on each side.
Honey Lime Grilled Shrimp
½ cup Olive Oil
3 Tbsp Honey
Juice of 1 Lime
¼ tsp Red Pepper Flakes
Pinch of Salt
40 Shrimp, peeled with tails removed
8 Skewers
Soak the skewers, if they are made of wood, in a cup of water for at least a ½ an hour. If the skewers are too long for the glass, flip them over halfway through soaking. This prevents the skewers from burning on the grill.
In a shallow dish combine oil, honey, lime juice, red pepper flakes and salt.
Place 5 pieces of shrimp on each skewer. When putting shrimp on the skewer, be sure to go through both the body and tail (as shown) so they are secure.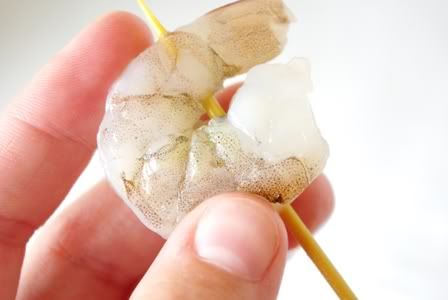 Place prepared skewers in the marinade and refrigerate for at least 1 hour. Flip the skewers half way through to soak both sides of the shrimp.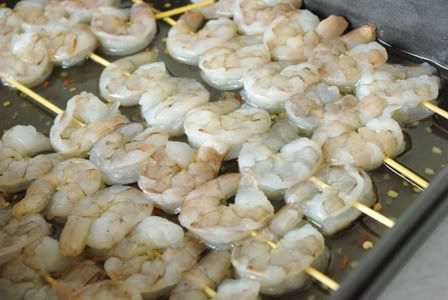 Preheat grill to medium heat. Place skewers on cleaned grill plates. Because of the oil in the marinade they will flame for a few seconds. Cook on each side for one minute. Raw shrimp is gray in color, and cooked shrimp will be light pink. Serve immediately.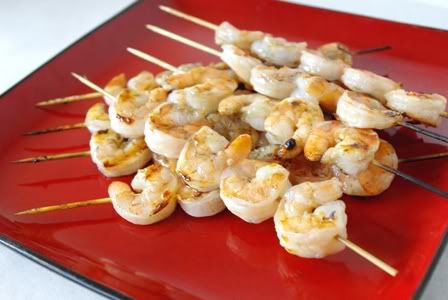 ~SD