What do you do when you are out of tortillas and want to make Mexican for dinner? More specifically… what do you do when you are out of tortillas and there is 4 inches of ice on your driveway, and it is 0 degrees outside? You make your own tortillas.
Tortillas are simple to make and the flavor of homemade is so much better than that of store bought. By that I mean, the kind of tortillas you can buy at your local Walmart. I have a good friend, who is a Chef and lives in Texas. When she wants tortillas she can just run to the store and buy freshly made, warm tortillas. We, here in the Tundra of Ohio (as she calls it) are not so lucky.
Flour Tortillas
Makes 12, 6-8 tortillas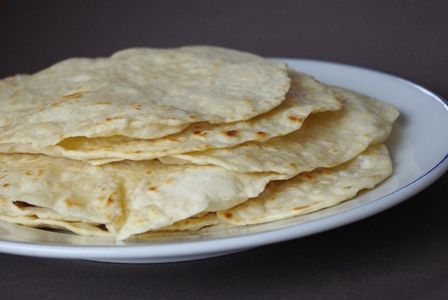 2 ½ cups Flour
1 tsp Salt
½ tsp Baking Powder
1/3 cup Shortening
2/3 cup Warm Water
Vegetable Oil for cooking
In a medium sized mixing bowl combine flour, salt, baking powder and shortening. Mix with hands until shortening is well blended with the flour. Add water, 1/3 cup at a time. Fold with wooden spoon to incorporate water. Add only enough water necessary to soak up all of the flour, but not make dough sticky.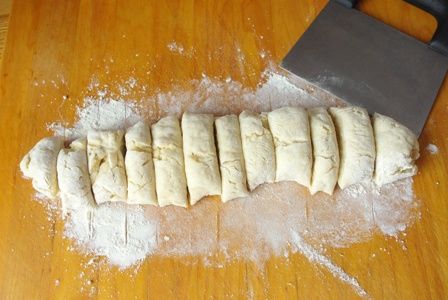 Turn dough out onto lightly floured surface. Roll dough into a log and cut in ½, then cut pieces in half again, and then each piece into 3 slices. This should give you 12 even dough discs. Roll each disc into a 6-8 inch round tortilla, with a rolling pin. Tortillas should about 1 millimeter thick.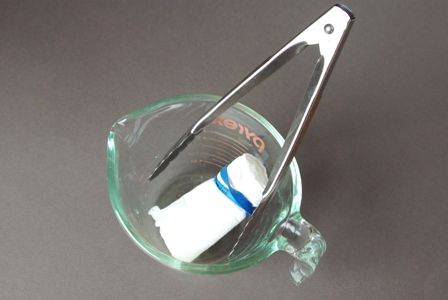 I use a folded paper towel secured with a rubber band as a make-shift oil brush. I grab it with tongs and brush the pan between each tortilla.
Once all of the tortillas have been rolled out, heat a 10 inch cast iron skillet over medium heat. Pan is ready to be cooked in when you can feel the warmth of the heat while holding your hand one inch from the bottom of the pan. Brush lightly with vegetable oil and cook tortilla on one side until large bubbles form, then flip and cook until browned in a few spots.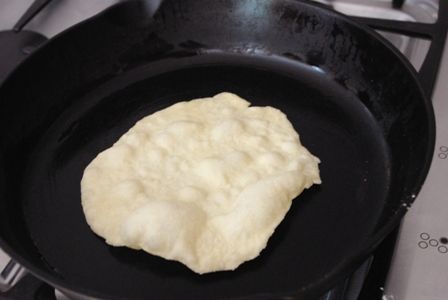 Continue this process until the remaining tortillas are cooked, brushing pan with oil between each tortilla.
Serve immediately or refrigerate for up to one week.