Grilled Stuffed Portabella
Makes 2 Large Mushrooms
2 large Portabella Mushrooms
2 Tbsp Balsamic Vinegar
2 Tbsp Olive Oil
1 cup Bread Cubes
¼ cup Bacon, Cooked
½ cup Spinach
1 tsp Garlic, Chopped
½ cup Parmesan Cheese
Pinch of Salt
Pinch of Pepper
Sliced Mozzarella
Clean mushrooms by brushing with a damp paper towel. Using a small spoon, scrape the gills from the mushroom.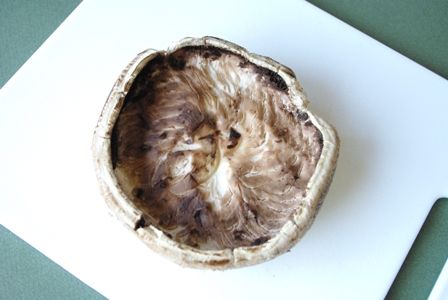 Pour equal amounts of olive oil and vinegar on the stem side of each mushroom. Allow to marinade for about 30 minutes.
Preheat grill to medium heat, about 350 degrees.
Cook bacon until crisp in a small sauté pan. Leave about 1 tsp of bacon grease in the pan, and discard the rest. Stir in washed spinach and sauté until wilted. Then stir in bread cubes and sauté for about one minute of medium heat. Remove stuffing mixture from sauté pan and place in a small mixing bowl. Stir in egg, parmesan cheese, salt and pepper. Drain the remaining balsamic marinade from the mushrooms into the stuffing mixture, stir to incorporate.
Fill mushrooms with stuffing.
Place each mushroom on the preheated grill. Close lid and cook for about 10 minutes. After ten minutes place slices of mozzarella cheese on top of each mushroom. Continue cooking until cheese is melted and browned. Serve hot.