Every chef, cook or avid eater has at one point been asked the inevitable question… what would there last meal be? Now, I have it on good authority (my dad+ the history channel) that some of the most commonly requested meals are steak with A-1 sauce, french fries, mac 'n' cheese and fried chicken. I have, of course been asked this question dozens of times, and I have never really had a definite answer. I think my mom's roast beef would be near the top, maybe sausage gravy and biscuits, never anything with A-1 and perhaps a really great chicken and rice! I know none of those things sound very "chefy" of me, but I love simplicity! I grew up on chicken and rice made with Uncle Bens and Cream of Mushroom soup… and admittedly still love that version. In recent tries, however, I have taken a new outlook on chicken and rice and I hope you will try my recipe.
Chicken and Rice
1 cup Rice, uncooked (I use Jasmine)
1/2 lb Chicken Tenders, trimmed and cubed
1 Tbsp Butter
1/2 tsp Garlic
3 Tbsp Flour
1 1/2 cup Chicken Stock
1/2 cup Corn, fresh or frozen
1/2 cup Lima Beans or Peas, fresh or frozen
Salt and Pepper to taste
Pinch Cayenne Pepper
Parmesan Cheese
2 Tbsp Heavy Cream
Cook the rice accordingly to package instructions. For my particular rice it calls for 1 cup rice to 1 1/2 cup water. I use jasmine rice because the aroma while it is cooking is so great, and the flavor is robust. Set cooked rice aside.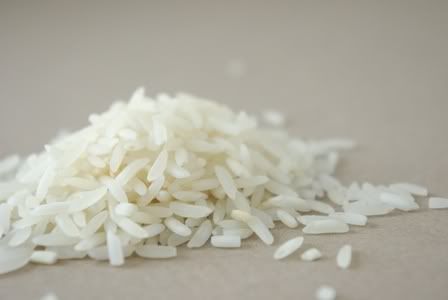 Melt butter in a medium saute pan with high sides, over medium heat. Saute chicken pieces until nearly cooked through. Add Garlic, then stir in flour. Turn heat to low and stir flour mixture for about 1 minute. Deglaze pan with chicken stock,add corn and beans then turn up heat and simmer until sauce thickens. Season lightly with salt, pepper and cayenne, remembering that the parmesan cheese will add a touch more saltiness. Turn heat to low and grate about 1/4 cup of Parmesan cheese in sauce. Add cream and simmer lightly for 1 minute. adjust seasoning if needed. Serve over cooked rice with a garnish of freshly grated parmesan cheese.
This recipe makes a great lunch for 2, or a quick dinner. You can add what ever veggies you have on hand to the sauce. I just use whatever I have in the freezer
~SD