Ah 2009! I am so excited for the new year, and I am looking forward to trying many new recipes. Growing up, each New Years Day we would have Black Eyed Peas for dinner. Now, since we live in Ohio, we eat Sour Kraut and Pork. This Northern tradition was happily accepted by my whole family. As the New Year approached, however, I began to think of new ways that I could prep the old tradition. I came up with this recipe for Roasted Pork Tenderloin, served with Brussel Sprouts and Bacon, and of course– Mashed Potatoes. For those who don't prefer the taste of sour kraut this is a great alternative. The flavors blend so well together and it was a hit with my family. The dried cranberries make a nice surprise. My brother said if I had not told him they were there, he would have never known! Which proves how well all of the flavors blend!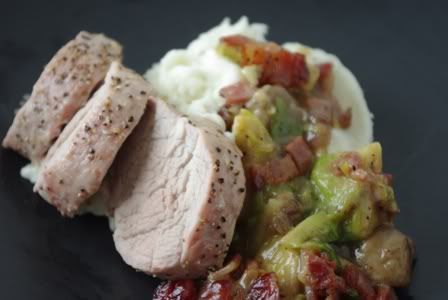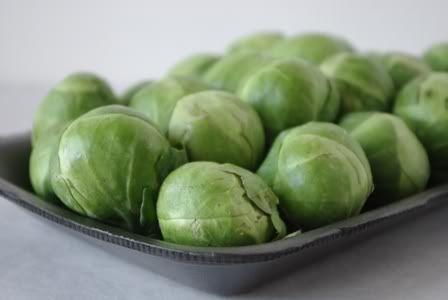 Brussel Sprouts get a horrible reputation, but when prepared correctly they are just great!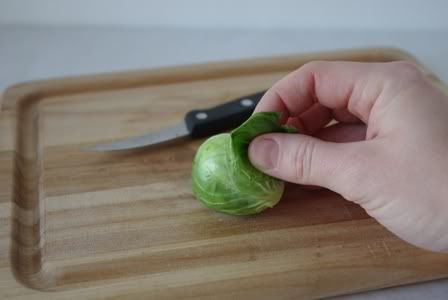 The outside of the sprouts tend to look a bit beaten and bruised, so peel back the layers until the skin looks fresh and green.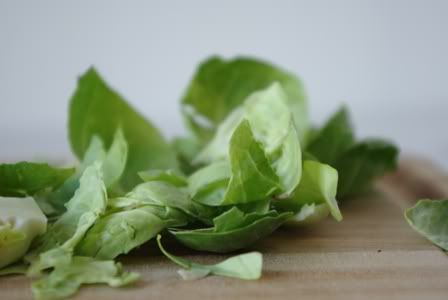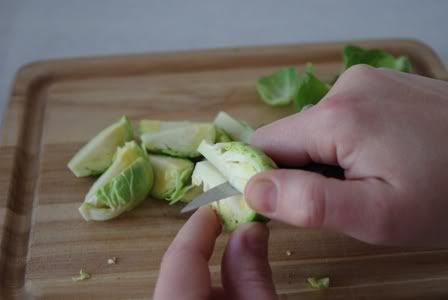 With a pearing knife trim the ends of the sprouts and quarter , depending on the size of your sprouts.
Roasted Pork Tenderloin with Brussel Sprouts
3/4 cup Bacon, cubed
1 1/2 cup Brussel Sprouts, cleaned and quartered
1/2 cup Mushrooms, quartered
1 Tbsp Butter
2 Tbsp Dried Cranberries
2 cups Chicken Stock
2 Tbsp Roux
In medium saute pan (I love cast iron) over medium heat, saute bacon until nearly crisp. Remove from the pan, but keep the drippings in the pan.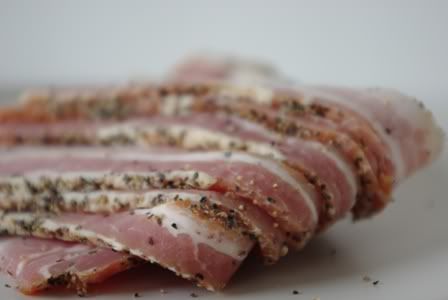 I love bacon. I think my resolution this year will be to eat more pork!
Saute quartered sprouts and mushrooms, for about 3 minutes. Deglaze pan with chicken stock, add cranberries and simmer until sauce is reduced by half (about ten minutes on high heat). Add roux and simmer until thick. — To make roux melt 2 Tbsp butter and stir in flour, cook for 1-2 minutes. I make a bunch of roux ahead and keep it in the refrigerator for quick use. — Season to taste. I did not add salt or pepper, since the sauce was so flavorful, and I used peppered bacon.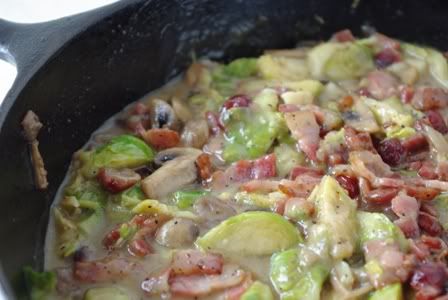 For the Pork
2 Pork Tenderloin
2 Tbsp Olive OIl
Kosher Salt
Fresh Cracked Pepper
Trim loins by removing the ribbon. Peel back the ribbon with a sharp knife as shown, be careful not to cut into the meat.
Coat meat in oil, then sprinkle with salt and pepper. Bake at 400 for 30-35 minutes. Pork should reach 155 degrees when tested in the thickest part with a meat thermometer. Let meat rest after cooking for about 5 minutes so the juices soak in. Slice meat in 1/2 inch thick pieces. Serve over mashed potatoes with Brussel Sprout Sauce.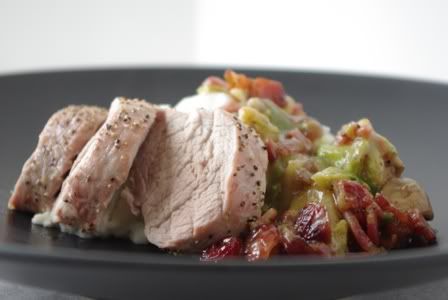 ~SD