In honor of the Ohio State Buckeyes playing in the bowl games let's make some Buckeye Candies! How many other sports teams do you know of with their own custom candies?
Buckeyes
Makes: 40 – 1inch Candies
1 ½ cups Peanut Butter, creamy or chunky
1 cup Softened Butter
½ tsp Vanilla
6 cups Powdered Sugar
4 cups Chocolate
Combine peanut butter, butter, vanilla and powdered sugar in a large mixing bowl. Mix with a hand mixer until mixture is crumbly, but moist. Form in 1 inch ball shapes and place on a wax paper lined pan. Freeze for ½ an hour before dipping.
Melt chocolate (shavings or chips) over a double boiler. Dip peanut butter into chocolate with a toothpick. Cover only ¾ of the ball. When buckeyes reach room temperature pat down the tops with your finger to hide the toothpick hole.
Here are some behind the scenes photos of the NBC3 Good Company Set in Cleveland, Ohio. I demonstrated these Buckeyes for all the OSU fans to try.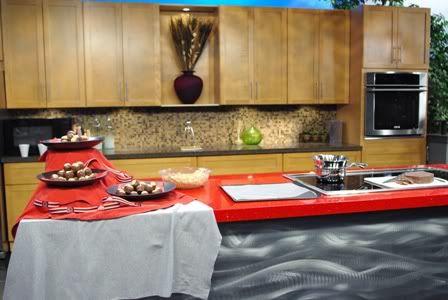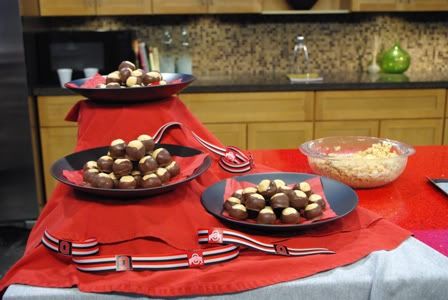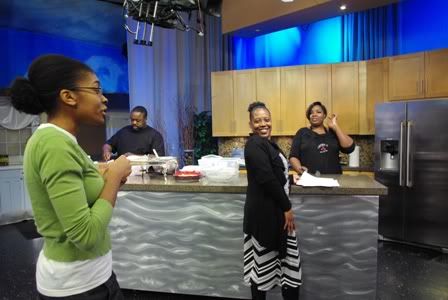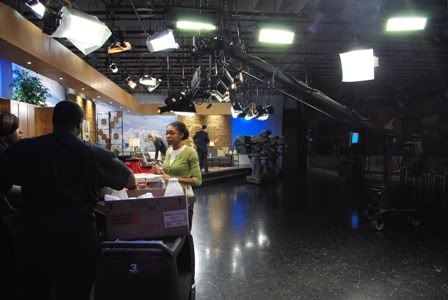 Please be sure to check out Barnes and Noble.com to get a copy of my how to cookbook Celebrating Simplicity!