With the holiday season in full swing, and holiday parties everywhere- I have decided to post recipes to help folks break through the monotony.  Any time I have attended a holiday potluck or party I recall only a few things- deviled eggs, ham, dip, cookies, ham, ham and more ham.  Okay, not that I haven't eaten my share, I love a good potluck.  I know many people are searching for new recipes to spice up there carry in, or to make hosting a holiday party exciting. 
I had a request to post my popular recipe for bruschetta.  This is one of the first recipes that I came up with on my own, back when I was about 16 years old.  After serving it once it became a staple at every party we had for about four years!  Now, I have been able to break free from that pattern, but the recipe is still a family favorite.  I am posting this recipe as i came up with it when I was sixteen.  If I did it over, I might change just a few things, but- why?  This recipe is tried and true.


Bruschetta
1 French Baguette
6 oz Cream Cheese, softened
1 small can Black Olives, sliced
1/2 tsp Garlic Salt
1 Tbsp Olive Oil
1 Yellow Bell Pepper, Diced
5 Roma Tomatoes, diced
1 clove Garlic, minced
Salt and Pepper to taste
Mozzarella Cheese, grated
Slice bread in 1/4 inch sliced.  Smear butter on the end pieces and eat them.  In small mixing bowl blend cream cheese, olives and garlic salt until spreadable.  With a icing spatula, smear cream cheese mixture onto bread slices.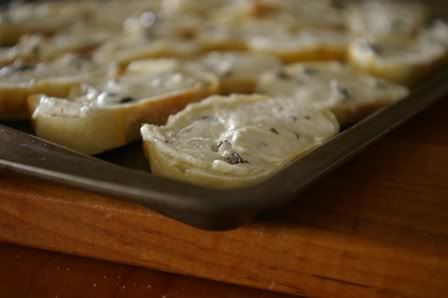 In small saute pan heat oil until wavy.  On high heat saute peppers for about two minutes, stirring frequently.  Add garlic then tomatoes and immediately remove from heat.  If you cook the tomatoes they will become soggy city.  Season to taste and spoon mixture onto prepared bread slices.  Generously sprinkle with cheese then bake at 375 degrees for about 10 minutes, or until cheese is melted.
 
Serve immediately.  Sometimes, for a bit of added flavor we serve a balsamic reduction as a drizzle sauce for the bruchetta.  All you do is mix 1/4 cup balsamic vinegar, 1/4 cup soy sauce and 1/4 cup brown sugar.  Simmer until mixture is slightly thickened- be careful not to overcook. It is also an option to frezze the prepared bruschetta, ready to bake on the pan. Simply pop in a preheated oven and allow a little extra time to bake.
~ SD