One of my favorite breakfast sweets is a blueberry muffin. This cake is the perfect way to serve blueberry muffins to a crowd, without having the hassle of making muffins. It is great baked the day ahead, so its the perfect recipe for a stress free brunch.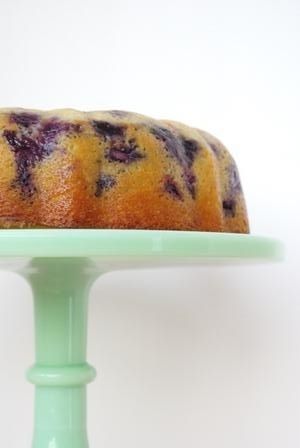 Makes 1 Bundt Cake
1 cup Butter, softened
2 cups Sugar
3 Eggs
2 tsp Vanilla
1 ¼ Buttermilk
2 tsp Baking Powder
½ tsp Baking Soda
½ tsp Salt
1 Tbsp Lemon Zest
1 Tbsp Lemon Juice
2 ¾ cups Flour
3 cups Blueberries
In a medium sized mixing bowl mix butter and sugar with an electric hand mixer. Once combined add eggs and blend until fluffy. Then mix on low speed to incorporate vanilla, buttermilk, baking powder, soda,salt, lemon juice and zest. Keeping mixer on low speed add flour. Mix only until flour is incorporated, do not overmix. Fold blueberries into batter with a rubber spatula. Pour batter into greased bundt cake pan.
Bake at 325 degrees for 60-80 minutes- until toothpick come out clean. Allow cake to cool in pan for at least 30 minutes before turning out onto a cake stand for service. Do not turn out too early, or the cake will break stick in the bottom of the pan.