Zwilling JA Henckel
When it comes to working in the kitchen there are few things more important than having the right tools for the right job. This goes for anything from knives, to pots and pans to dishrags! In many of my posts you can see that I use Henckel Knives and Kitchen Ware. I don't just do this because they look good and fancy. I use this brand because the are the BEST! Zwilling JA Henckel, a German Company, has been around for over 275 years. Their lines include high quality professional kitchen knives, steak knives, flatware, scissors and many other gadgets.
Many years ago I was fortunate to have created a wholesale Henckel account. Since then I have been providing high quality knives by special order to many eager cooks. Now, I would like to extend the luxory to the readers of my blog. Whether you need to restock your kitchen, buy a few things here and there or give a great wedding gift– Henckel can fit every need.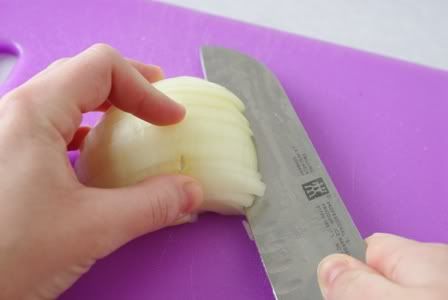 Growing up I learned to use a paring knife for every application- cutting an onion, peeling an apple, opening a can. As I worked on my knife skills further I realized, a lot of time and energy can be saved by choosing the right tools. To cut an onion I choose a 7 inch Santoku. The ergonomics of these knives allows the user to balance their knife and get the most out of each cut. For peeling an apple I use a tourne or a paring knife. Henckels International line of paring knives are light weight and easy to handle, making peeling anything a breeze. For opening a can I choose– a can opener! When purchasing high quality knives it is important to use them and handle them properly.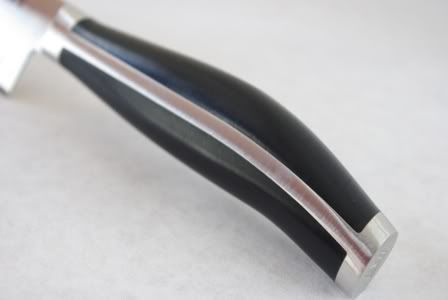 There are many options that can be customized to suit any home cook. Henckel offers the traditional, fully forged, riveted knives– Just like 275 years ago. They have also developed an ergonmic handle with a comfortable shape. This style of handle is available in full stainless, full polypropylene or the forged model, as pictured above. All of the handle options include the highest quality carbon steel blade. These blades are easy to sharpen, and hold an edge well. Email me and we can decide which option is best for you! stacey@staceycooks.com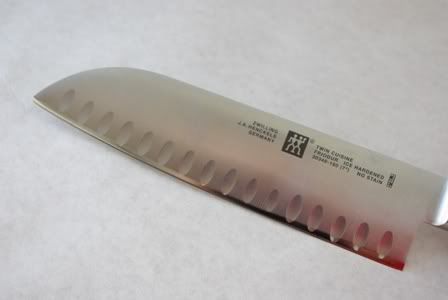 The knife I use most often in the kitchen is a 7 inch Santoku. This knife, with its Japenese design, is the ultimate in chef's knives. With the hollow edge groves food sticks less to the blade. This style knife will change the way you work in the kitchen!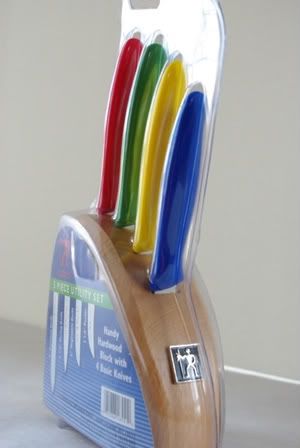 This awesome knife block is perfect for a gift, or a starter set. It includes all the paring knives you need, a great serrated knife and my favorite a tourne. This set is a low budget, high quality option… one of my favorite items that Henckel carries.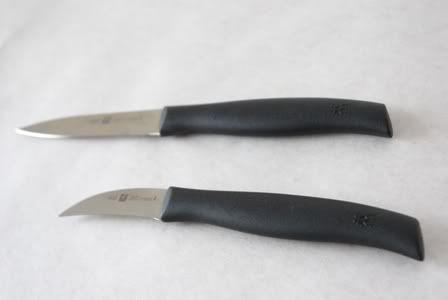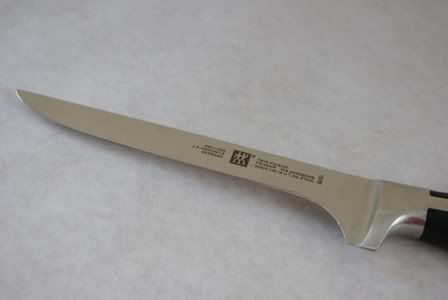 Many people who are making the jump tho professional knives think they need to buy the big bad knife block. These sets have everything you need, but also a lot that you don't! I recommend to people to buy the staples- A good chef's knife. A flexible boning knife (as shown above). Some paring knives and a steel. This is all the home cook, or even restauant chef needs on a daily basis. It is easy to add on to your collection, but important to start with the basics!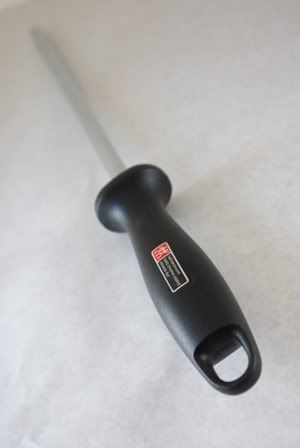 As an added bonus, to help folks start themselves out right I will be including a free Steel with any purchase over $150. A steel is often confused as a sharpening tool, but is really necessary to hone the blade. As you use your knife the "edge" or "blade" will turn and create a burr. This makes the knife seem dull, properly using the steel will simply shape up the edge and maintain the sharpness.
I cannot say enough great things about Henckel and all of the items that they carry. If you are interested in updating you knife drawer and kitchen ware please email me. You can also visit the Henckel website to get a better idea of all they have to offer. Visit the Henckel Website I am able to order anything at a very discounted price. So whether you need a good gift, or are simply wanting better kitchen tools– take the first step with Henckel and change the way you work in the kitchen!
~ SD